Covid-19 is spiking in my state
, though we're still doing better than many places. We have over 20,000 confirmed cases now. Our governor, who is a Republican*, cautions that that number is probably low, since we haven't done that much testing. Nationwide,
over 126,000 people have died. So far**.
I, for instance, did not get tested. This is only partly because I'm afraid of how horrible the test sounds. Ever since I had a
"esophageal manometry" test
done before my stomach surgery, I have a literal phobia about things being stuck up my nose.
But mainly I avoided it because I'd heard
horror stories about how much people were being charged for the tests.
I'm already paying 20% of my income for medical costs every month, so miss me on that.
Despite the increasing number of people infected, and hospitalized, most people in my town are still not wearing masks. When we make a grocery run, I'd say about 20% of the people in the store are masked. And I had someone inform me on FB today that the "Kung Flu" was not a big deal, and the "Democrats" were exaggerating the effects of the virus in order to "start a race war."
Which, okay, Karen.
I blocked her. That's my new policy -- one strike, and fuck you.
Meanwhile, our university has formulated the beginning of a plan for how we might resume classes in August -- split classes in half, and teaching half the class on, say, Tuesday, and half on Thursday. Public schools might well be doing a version of this.
That will leave half the students at home
on any given day, and I have no idea how parents are going to manage that.
How are things where you are?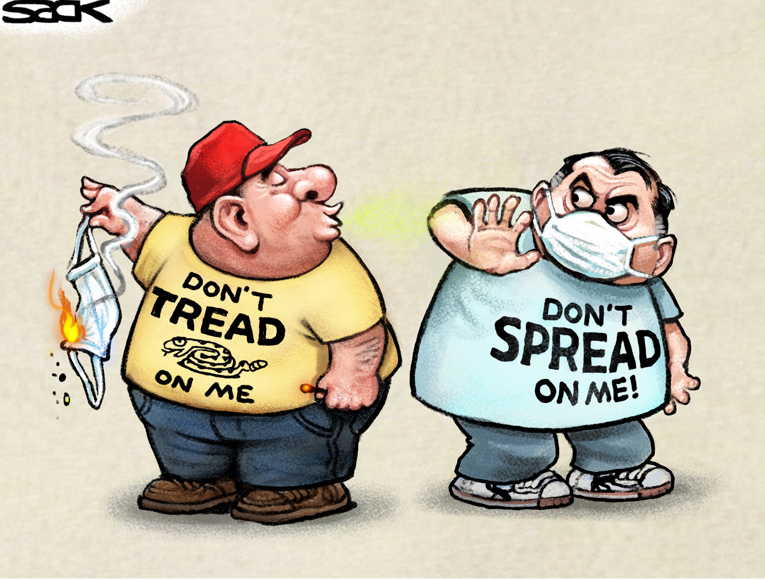 *I mention that he's a Republican because apparently simple data is now a political issue, just like wearing masks.
**This is almost certainly not an accurate count. The real number is almost certainly much higher, despite what MAGA Americans keep claiming. (They think the number is much lower. Or, you know, they pretend to think that. Since everything they say is a lie, this probably is too.