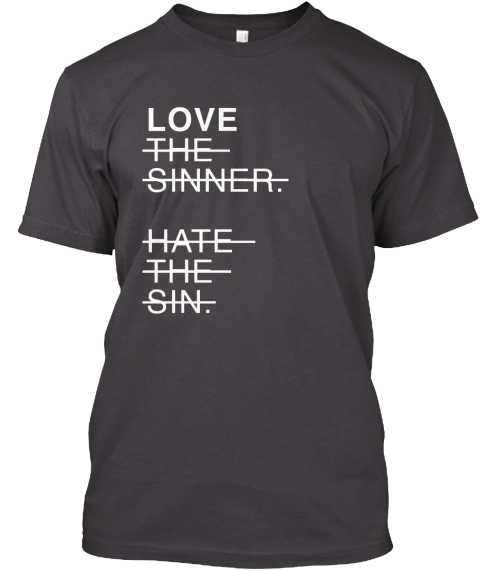 I may have mentioned to y'all, a few dozen or a few hundred times, that the kid is genderqueer.
And, as you know, Bob, we live in a Red State, and in a severely conservative area, and deeply Evangelical Christian area, of that state.
All this by way of saying that her adolescence has been rough.
Just recently, and once again, she was treated to another adolescent informing her, piously, that while he didn't have anything against LGBTQ people himself, and while he certainly believed that they should have equal rights, nevertheless he believed, due to his religious convictions, that what they did was a sin.
Nothing personal. And he wasn't trying to hurt anyone's feelings.
I've heard this -- as my kid has -- endlessly, and almost always from Evangelical Christians. It never fails to astonish me, both that they can believe this statement makes some sort of sense, and that they can congratulate themselves (apparently) on how loving it is.
They love their gay friends (their trans friends, their Lesbian friends, their bi friends), they assure me, and themselves, and each other. They just think that those friends are sinners, that what those friends
are
is a foul and disgusting sin.
But that's okay! Nothing personal! We're all sinners, right?
Let's flip this around, I sometimes say. I like you as a
person
. But I think being a Christian, especially the kind of Christian you are, is both a bigoted and militantly ignorant way to live. Nothing personal! I'm not trying to hurt your feelings! We all have our blind spots, after all! And I certainly would never try to take away your
right
to believe hateful and ignorant things!
Somehow this little parable in equal treatment never goes over well.
Yet it's not even equal treatment, obviously. LGBTQ people have not made a choice* -- as Christian Evangelicals have -- to be what they are. Christian Evangelicals make a choice to believe what they believe. They sign up for this religion; they choose to endorse and inculcate their children and one another with this belief system and this behavior. They can quit any time they choose.
It is their decision, in other words, to believe something which says that my child, and people like my child, are disgusting and evil. To then claim that there is nothing wrong with that belief system, and (worse) to claim that they can both love my child while believing she is disgusting and evil?
Well, please. You're not fooling anyone, babycakes.
The harm their belief system does is ignored by them, or brushed away -- the LGBTQ people, and especially the children and adolescents who suffer from depression and anxiety, and other issues. I've confronted Christian Evangelicals with data about these problems, and either they insist these problems don't exist (despite the data) or they claim that the problems are caused by the sin itself, rather than being created by having to live in a culture which treats LGBTQ people as though they're disgusting and evil.
Which, you know, that's not the fault of Christian Evangelical culture! They
love
gay people! It's just their sins they hate!
It's hard to know what to do when dealing with those who can, with a straight face, make this argument, as I told my distraught child yet again. (And yes, by the way, my child is harmed by people telling her she's sinful, that her very nature is disgusting and evil. She knows they're wrong; but it still harms her when people say these things to her. This is still doing damage to her.)
What can we do?
Tell the truth. Tell the truth again. Tell it again.
It's the only weapon we have.
Update:
Data
*Although, even if they
had
, so what?